Kajabi Quick Tip | How to send good looking order confirmation emails in Kajabi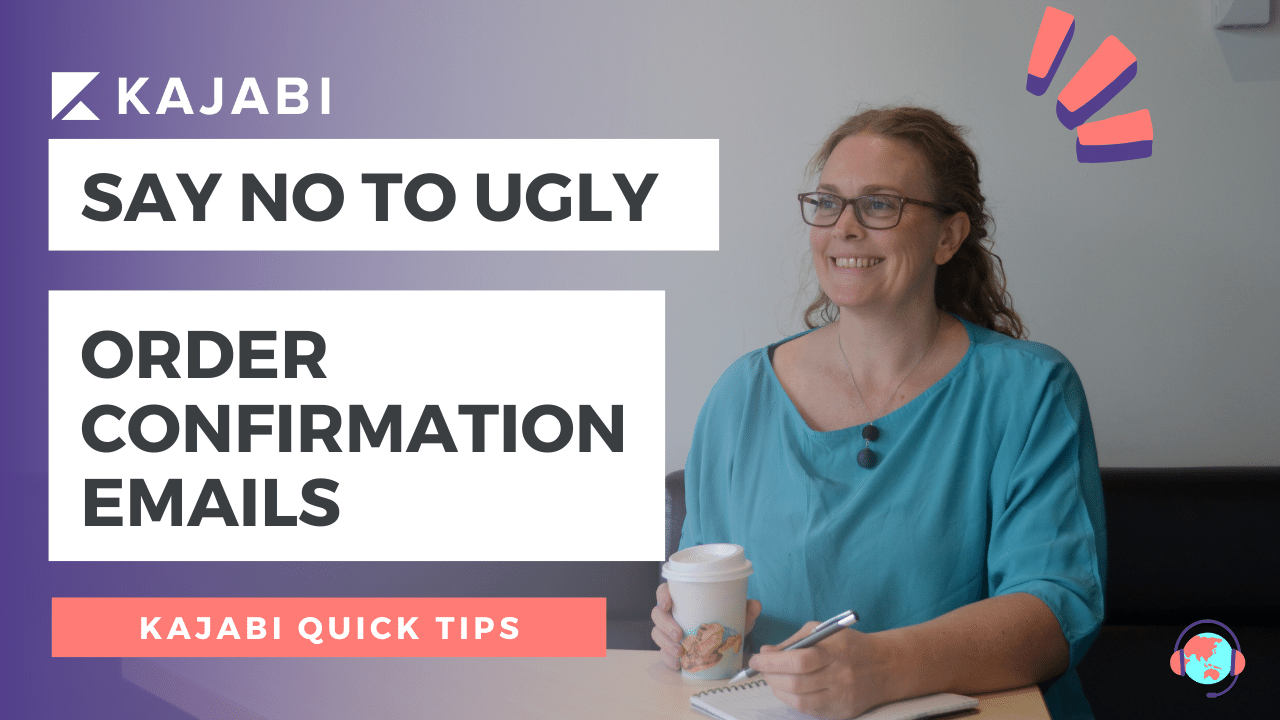 Welcome to Kajabi Quick Tips, your regular dose of Kajabi inspo.
Twice a week I share an actionable tip that's quick and easy to implement.
Use the step-by-step guide below or watch the video if you prefer to see what's happening on screen.
You'll learn more about Kajabi one quick tip at a time, so you can master the platform that runs your online business!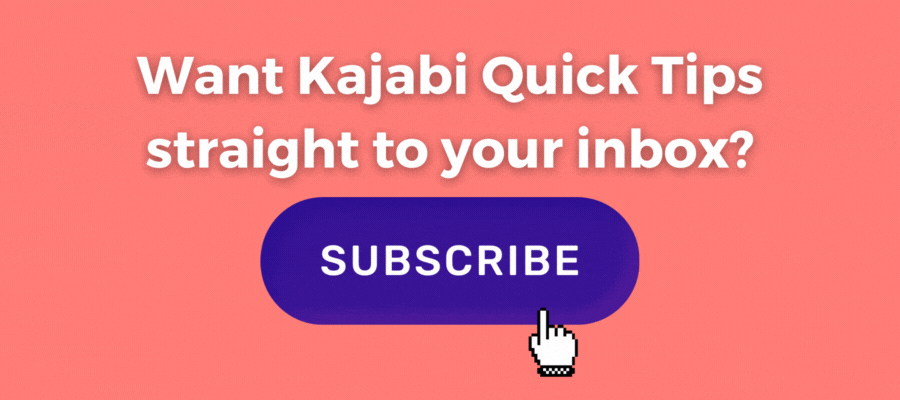 ---
Just a heads up
Blog Posts from at The Unicorn Advisory may contain affiliate links, but I'm a no bullshit affiliate kinda gal, as you can read about in

my affiliate disclaimer

.
I only share products and services we use and love and would recommend, if there was affiliate program or not.
The few $$ we make from affiliate income, costs you absolutely nothing and goes straight to our family holiday fund ✈️ so my kids and I thank you💗
---
Do you hate the default emails that get sent with Kajabi checkouts?

Me too...

I love Kajabi as you know, but I hate those default checkout emails so much!
They really are ugly and hard to use with the code looking set up and the "custom" one is just the same as the default, but you can add your own words - and it still looks ugly 😆
So I never use the default email and I never use the custom email either.
I click on NONE.
Which might feel a little counter-intuitive but read on and you'll find out what I do instead, to avoid the plague of ugly/unbranded emails.
Today's KQT
Using an automation email to send your purchase confirmations.

If you click on none for the post purchase email (which I recommend) you'll discover that no Kajabi transactional/system email will go out.
You'll need to set up an alternative, MUCH nicer-looking email confirmation instead.
I do this through an automation on the offer.
There are two options to choose as the automation action to achieve this.
> send email
> subscribe to sequence.
To set up this automation head to the bottom section of your offer where you will see automations:
Click on add automation and choose your option, I either pick subscribe to email sequence OR send an email.
By the way, if I have an email sequence set up, that is my preferred option, as you can then track analytics of opens, clicks etc - you can't get analytics on the "send an email" emails.
Plus if you have different versions of your offer - payment plan + pay in full + early bird etc and all of the people who purchase, will get the same welcome email, making the automation subscribe to a sequence makes the most sense.
Then if you want to make any changes to your post purchase email, you only need to do it in one place (the sequence), even if there are multiple automations set up.
I figured that one out after having to update my send email content in TEN different automations on five separate offers 😆
When you use the "send email" automation, if you make changes, you may need to do it multiple times, as each email automation on each offer, is individual and independent.
To choose which option (send or sequence), click into add automation, then click on the dropdown arrow in the "then" area and pick the automation you'd like to use.
If you are choosing to subscribe to an email sequence, you'll need to have the sequence created first (at least one email).
Make sure the first email in your sequence goes out on Day 0 (not day 1). Kajabi defaults to making the first email day 1 - but that will mean it goes out 24 hours + AFTER someone purchases - day 0 means immediately which is what you want.
Once you've chosen your automation action (subscribe to a sequence) then you'll be able to choose your specific sequence on the dropdown list.
Click save and you're done.
Once your customer purchases, they will be subscribed to the email sequence you've chosen and they will start getting those emails.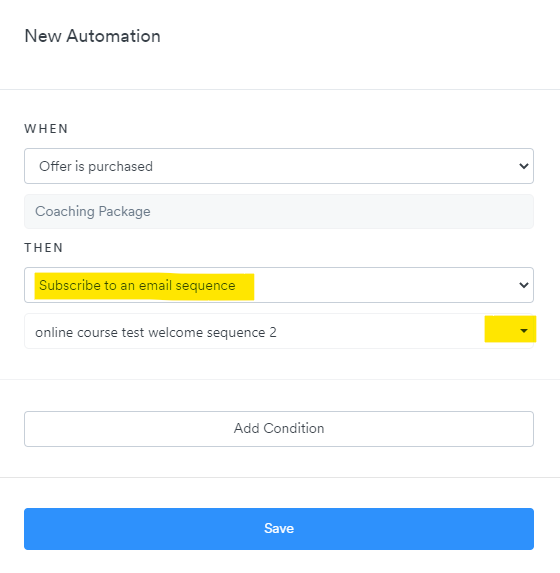 If you want to use the send an email automation, simply choose that option under "then"
You'll see an email pop up and you can then update the content to whatever you'd like it to say.
You can add images, personalisation, buttons and format the text colour and size in these emails which will look MUCH better than the default and "custom" email confirmation.
It's the same formatting as you'd use in a "classic" email or on a Kajabi blog.
One last bonus tip in this kajabi quick tip...
When I create a send email automation, I often don't completely have the actual email content ready. Or I might draft it and need to update it.
However - because these emails can be a little hidden down in the automations at the bottom of your offer, it's easy to forget that you need to update it.


(Luckily if you do a live test on your offer, you'll get your own email - which might also remind you to update it!)

So what I do is add TO BE COMPLETED or something similar to the subject line.
That way - it will show up when you glance at your offer settings and you'll get a reminder to complete it.
---
Prefer to watch on video?
View this step-by-step Kajabi Quick Tip on video, if you'd prefer a start-to-finish screenshare tutorial.
---
Want extra Kajabi help?
If you've got Kajabi questions, please let me know what they are. Your question may become a future quick tip or tutorial 👍
Click Here to request a tip


---

Get an Hour of Power
Kajabi is amazing, but with a platform this powerful, sometimes you might be wondering if you're setting everything up right? Or you could have a to-do list a mile long that's taking forever because you've got to learn each step.
If so, you might need to harness the power of a Kajabi expert to bring some sweet relief!
With an hour of power, I can often help you achieve what might have taken you days! Or look over what you've already got set up and make sure everything is linked up correctly and ready for launch.
Sometimes you just need someone to tell you the best way to set everything up and be a sounding board for your ideas.
That's where my Kajabi strategy hour of power comes in!
My Kajabi brain on your biz for a magical hour of action
---

One Last Thing...
Any time I use automations on an offer, I always double up and set up the same automation for purchased AND for granted.
Even if I don't think I'll be granting anyone access, I might do in future for a number of different customer service situations and I'd never remember at the time to go back and add in those automations so the customer gets a confirmation.
So I set up both when offer is purchase AND when offer is granted automations at the time of creating the offer.
If you did want to send a DIFFERENT confirmation email for someone who purchases and someone who gets the offer granted, using automation emails is a great way to do this.
For example if you are granting access to a new product to your VIP members or clients, call them out in the email as the VIP's they are, so they know this is a gift or part of their membership.
Perhaps you have a set up where someone else will pay for the course and you'd like to acknowledge their enrollment is confirmed rather than saying thanks for your purchase.
Using automations to send purchase customers vs granted customers a different email sequence or "send email" confirmation is a great way to personalise your post-purchase experience

Cheers, Sue x
Your Trusted Kajabi Expert 🦄
Discover the secrets to using Kajabi like a pro! 🤫
Get a Kajabi Quick Tip in your inbox twice a week
We promise to keep your email and personal info safe. Unsubscribe at any time 🤍