Kajabi Quick Tip | How to test your offers + sign ups to make sure they work!
Welcome to Kajabi Quick Tips, your regular dose of Kajabi inspo.
Twice a week I share an actionable tip that's quick and easy to implement.
Use the step-by-step guide below or watch the video if you prefer to see what's happening on screen.
You'll learn more about Kajabi one quick tip at a time, so you can master the platform that runs your online business!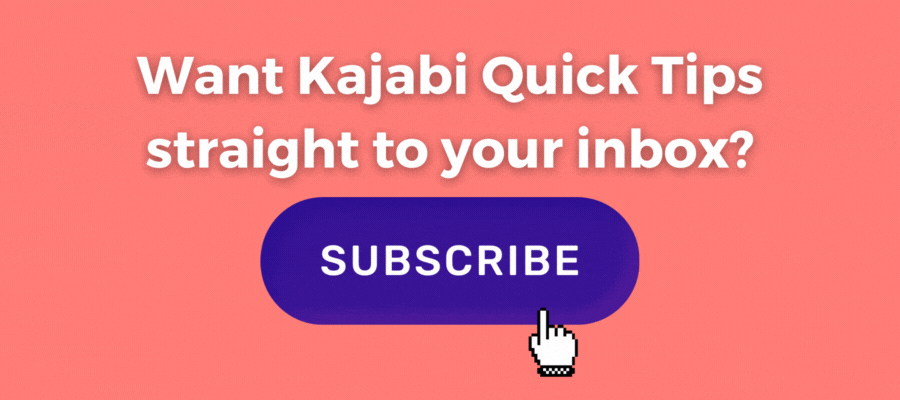 ---
Just a heads up
Blog Posts from at The Unicorn Advisory may contain affiliate links, but I'm a no bullshit affiliate kinda gal, as you can read about in

my affiliate disclaimer

.
I only share products and services we use and love and would recommend, if there was affiliate program or not.
The few $$ we make from affiliate income, costs you absolutely nothing and goes straight to our family holiday fund ✈️ so my kids and I thank you💗
---
Do you know what happens once a customer clicks?

Today's tip might sound simple, but it's surprising how many errors and issues can be averted by doing one simple thing.
Live testing.
For your checkouts, forms and anything else that triggers an action on Kajabi, testing your work is key!
And Murphy's Law, every time I DON'T test something because I think, nah it will be fine, is the time it ISN'T fine!
So please don't skip testing, doing so helps you understand exactly what will happen on your site for your students and website visitors.

Today's KQT(s)
How to test your offers
While you can sort of test your course or membership by granting yourself access or making it free and signing up, the BEST way to test an offer is to go through a paid checkout process.
Change the price of your offer to $1 and process an actual transaction.
You will need to do this in an incognito or private browser window, OR do it in a different browser to what you're using to edit your site.
For example - if you are using Chrome to access the back end of Kajabi, use Safari or Edge to test your live checkout.
Then, do a live transaction.
See what happens at each stage of the purchase.
If you have an upsell, does it show up after purchase?
Do you see your thank you page?
What about the library page? Does that look how you want?
And the course area, is that all ok? Does the product show up in the library?
Also, check your email to see what emails you get (or not) to ensure any post-purchase confirmation emails or sequences are sending as you expected them to.

Testing your forms
Whenever I create a form on my site for a freebie, newsletter sign up, etc, I do a test sign-up.
Doing this allows you to see if everything happens as it should (especially if you have a double opt-in setup).
Does the thank you page come up correctly (is it the right page)?
If you have a link for download in your email, does it work?
Do the automations on the formwork - will you be subscribed to the sequence if you have a sequence, registered for the event if it's a form for an event etc.
One note - if you test the same form multiple times with the same email address - you won't be added to the same sequence twice, as you can only go through it once.
So either unsubscribe yourself from the sequence or use a different email address.
THE MOST HELPFUL thing about testing a form - if that form has an automation to subscribe to a sequence - is that you will get the emails FIRST.
I try to sign up at least a day before anyone else sees the form - so if an email goes out with a mistake or broken link (or you left a note for yourself to add an image etc), YOU will see it before anyone else will.
So you'll have at least a day once you get your own email, to fix it up before anyone else will see it :)

Testing your emails
Do you send yourself a test email before sending them in Kajabi?
Almost every time I don't do this, something goes wrong like the link wasn't added or it was the wrong link, etc etc
So I now, pretty much always, send myself (or someone on my team) a test email.
Doing so is also helpful as you can then see it on your phone as well as desktop and sometimes reading an email on your phone helps your eyes to see spelling mistakes or weirdly written sentences.
Sending a test email to yourself also helps you see any issues with images not showing correctly or other weird issues that don't show on a big screen.
Testing everything can feel like an onerous extra step when you're busting to put your offers out into the world but it helps for two reasons.
Firstly - you will see the entire checkout flow, instead of it being a mystery what happens after someone clicks the purchase button on a checkout. Seeing what happens, if it's easy (or not) to access the product, can help you to tweak things if need be and know what your customer is talking about on the off chance you need to troubleshoot their access.
Secondly - it can stop issues before they arise.
I mean sometimes, stuff is just going to happen and you deal with it when it does.
But... prevention is usually less stressful than fixing on the fly, so checking your links, sign-up flow and all other aspects of your site allows you to fix things in a calm, stress-free way and makes for a great customer experience.
---
Want extra Kajabi help?
If you've got Kajabi questions, please let me know what they are. Your question may become a future quick tip or tutorial 👍
Click Here to request a tip


---
Kajabi Butler VIP Experience
If you'd love someone to swoop in and complete your Kajabi wishlist in a day, the Kajabi Butler VIP experience might be what you need
I'll be your Kajabi Butler for an entire day, your Kajabi site is my exclusive focus during your day. That way you can get your Kajabi site or offers up and ready RIGHT NOW, so you can start growing your list and selling your products + services.
This is what's included:
✨ 60-minute planning/roadmap session on zoom
✨ 8 hours of my Kajabi expertise focus on your site - what I can get done in 8 hours, might take you weeks
✨ 1 hour follow-up call for any extra changes or revisions
✨ 30 days voxer support for quick questions afterwards
Booking for late February/early March
---
One Last Thing...
When testing, ideally test things in both a desktop AND mobile browser.
On average (depending on your audience) you can expect around 50% of your audience to be looking at your site on mobile, so it is good to check and make sure words aren't getting cut off or are hard to read.
The mobile preview in Kajabi gives you an idea what your pages might look like, but often when you view on an actual mobile device, you discover things you had't seen before.
For example - the way images or backgrounds change in mobile view.
It's also easy to overlook changing a section of your page if you have the same section with a desktop and mobile view, so doing a quick check on your phone will allow you to see it, before visitors to your page will.
Don't forget to check links on your phone as well.
Happy testing! 🔬

Cheers, Sue x
Your Trusted Kajabi Expert 🦄
Discover the secrets to using Kajabi like a pro! 🤫
Get a Kajabi Quick Tip in your inbox twice a week
We promise to keep your email and personal info safe. Unsubscribe at any time 🤍