Kajabi Quick Tip | Adding a countdown timer to a Kajabi checkout page
Welcome to Kajabi Quick Tips, your regular dose of Kajabi inspo.
Twice a week I share an actionable tip that's quick and easy to implement.
Use the step-by-step guide below or watch the video if you prefer to see what's happening on screen.
You'll learn more about Kajabi one quick tip at a time, so you can master the platform that runs your online business!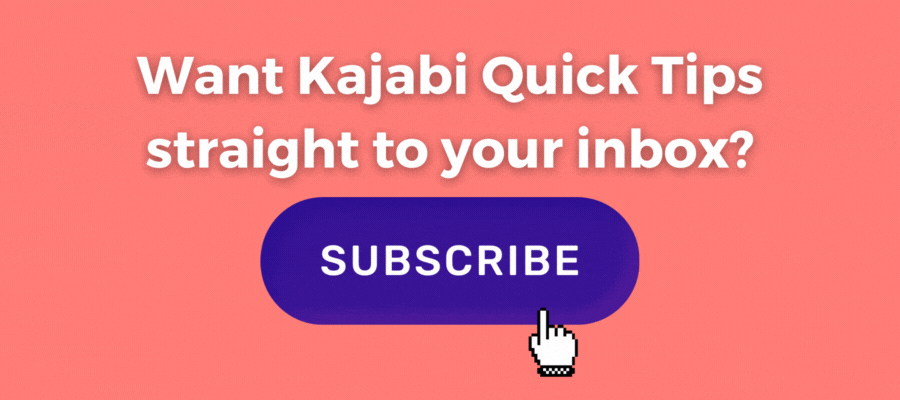 ---
Just a heads up
Blog Posts from at The Unicorn Advisory may contain affiliate links, but I'm a no bullshit affiliate kinda gal, as you can read about in

my affiliate disclaimer

.
I only share products and services we use and love and would recommend, if there was affiliate program or not.
The few $$ we make from affiliate income, costs you absolutely nothing and goes straight to our family holiday fund ✈️ so my kids and I thank you💗
---
Want to add a countdown timer to your Kajabi checkout?

In yesterday's quick tip I showed you how to add Kajabi a countdown timer to the top of your sales page.
But what if you want to add it to the checkout?
There is no option to add a countdown timer there - and it's probably one of the best places you can have one!
Thankfully there is an easy and free tool that gets your timer on the checkout in a few quick steps.

Today's KQT
Setting up a countdown timer on your checkout page.
As Kajabi doesn't (yet) have the option to add a countdown timer to the checkout page, you'll need to use a different tool to achieve this.
Whilst Deadline Funnel is absolutely the best option for countdown timers - especially if you want to have an evergreen deadline (ie a unique countdown specific to when that person enters your funnel), there is a great option for a fixed date and time.
Meet Sentric.
Whilst there is a paid plan, which is great for adding further design customisation and view count if you think you'll get a lot of traffic (more than 100k visitors) the free countdown works a treat!
First step is to create your deadline.
Go to Sendtric an enter the closing date and time for your offer. Make sure the time zone is correct.
Choose the colour you'd like your timer to display in.
You will need to add your email address, which is a small price to pay for getting this timer (and thankfully doesn't result in a barrage of emails afterwards! You'll just get sent the code and a single invite to go pro.)
Once you click Generate to create the timer, you'll see your timer pop up and be given some HTML code to add it to your emails and website.
Copy this code
BTW If you don't like how the colour looks, you can easily regenerate a new timer.

Next, let's head to your checkout page, so we can add the timer to the checkout.
Go into your offer and edit checkout.
Click on page content and checkout description, so you're in the area for the checkout text.
Go to the section on your checkout description where you'd like the timer to show up and add a message to yourself in capitals like
ADD TIMER HERE
This will help you see where in the code this timer needs to go.
Then go to the source code area of your text box - the button in the top left-hand corner that looks like this < >
Click that button and you'll see the code for your checkout text area.
Look for your ADD TIMER HERE message
Then replace that text with the HTML code that you got from Sendtric.
Close the source code area and you'll see your timer displayed on the checkout page!

You can also use the same code in classic emails and anywhere else in Kajabi where you can see the source code box (like order bumps!)
---
Prefer to watch on video?
View this step-by-step Kajabi Quick Tip on video, if you'd prefer a start-to-finish screen share tutorial.
---
Want extra Kajabi help?
If you've got Kajabi questions, please let me know what they are. Your question may become a future quick tip or tutorial 👍
Click Here to request a tip


---
Let's Get Shit Done together!
Are you going to be joining me next weekend for fun, frivolity and most importantly getting your Kajabi to do list DONE?
The next Kajama Party #GSD Weekend is on February 18/19 and registration is now open.
It's a fun chill co-working weekend, that gives you the benefit of a Kajabi expert on hand in case you get stuck while working through your list, or you have questions.
Register for the #GSD weekend >
---
One Last Thing...
Countdown timers have been getting a bit of a rough rap lately in many digital marketing circles, but that is because they are often used as a way to promote false scarcity, which is pretty sleazy and gross.
Timers are a favourite tool of many bro marketers - usually with some big-time rug shop closing down 95% off - never to be seen again (until next week) vibes.
Whilst I'm absolutely NOT a fan of adding loads of pressure to "make" people buy, and I hate BS deadlines, an actual deadline can help someone make a decision.
Timers can be really helpful when your offer will be closing soon - especially if it is a cohort that starts on a fixed date.
Timers are also helpful for audiences in multiple timezones because the viewer can see exactly how long they have left to decide or buy, without having to work it out in their head or look it up on a time conversion site.
And yes, an evergreen timer that shows a countdown specific to that person is 100% on my wishlist! I'd love to give someone an expiring special offer when they join my list without having to integrate other software. Hint Hint Kajabi in case you're listening 😘

Cheers, Sue x
Your Trusted Kajabi Expert 🦄
Discover the secrets to using Kajabi like a pro! 🤫
Get a Kajabi Quick Tip in your inbox twice a week
We promise to keep your email and personal info safe. Unsubscribe at any time 🤍