Kajabi Quick Tip Tutorial: How to Copy a lesson from one Kajabi course to another - quick + easy
Welcome to Kajabi Quick Tips, your regular dose of Kajabi inspo!
Each week I share actionable Kajabi tutorials and tips that are quick and easy to implement.
Use the step-by-step guide below or watch the video below if you prefer to see what's happening on screen.
You'll learn more about Kajabi one quick tip at a time, so you can master the platform that runs your online business!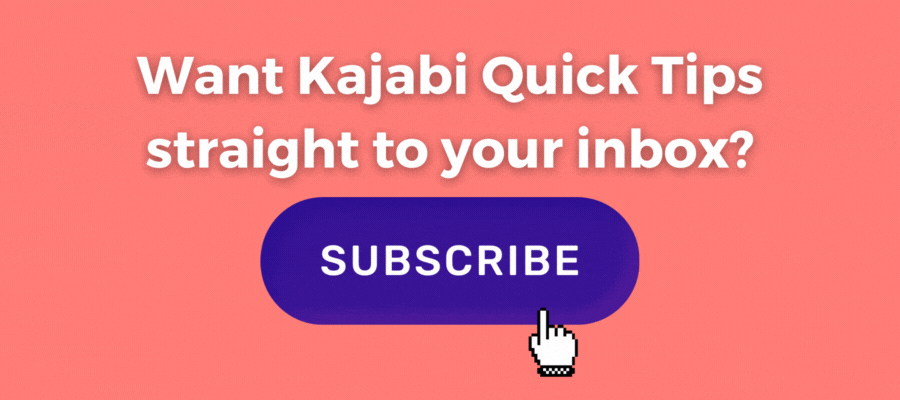 ---

Just a heads up
Blog Posts from at The Unicorn Advisory may contain affiliate links, but I'm a no bullshit affiliate kinda gal, as you can read about in

my affiliate disclaimer

.
I only share products and services we use and love and would recommend, if there was affiliate program or not.
The few $$ we make from affiliate income, costs you absolutely nothing and goes straight to our family holiday fund ✈️ so my kids and I thank you💗
---
Copying Your Kajabi Lessons (the easy way!)
Ever wondered how you can take a lesson that's in one Kajabi course or membership and put it into another (without having to cut and paste and redo everything? 😩)
In this tutorial, I'm going to show you a quick and easy little trick that will save you time, make your life a whole lot easier AND keep your content consistent across multiple courses. So, instead of tediously recreating the same lesson over and over again, I'll show you how to quickly duplicate it and transfer it to another course in just a few clicks.
Maybe you have a resources section that is the same on every course (or mostly the same) and you want to copy those lessons, rather than make them from scratch every time?
It's also perfect if you're breaking up a course into smaller courses, or pulling out helpful content from your membership to sell as a course or low ticket offer.
Whether you're a seasoned Kajabi pro or just getting started, this tip will simplify and streamline your course creation process.
And don't worry, no advanced coding skills are required!
Step 1
Note the specific name of the lesson and which product it is in (and which module it is in). This is especially helpful if you have a lot of products, or your course has a lot of content, as you'll be finding the lesson you need, in a dropdown list of every lesson from every product. Don't worry about this step if you only have 1 or 2 products or your products don't have a lot of content.
Step 2
Go to your NEW product and navigate to the module you want to copy the lesson into. You will need to copy the lessons one by one. Click on add content (in the module - not the button at the top of your course)
Step 3
Choose the "import from another course" option. Choose the course, module and lesson (or quiz) you want to import into your new course. Click import.
Step 4
Kajabi will then bring over that lesson content, including the video, downloads, thumbnail etc. As this is a copy, you can then make any updates or changes to the text in the lesson to suit your new course.
It's as simple as that!
Repeat the process for all the lessons you'd like to bring into your new course.
NOTE: If you have a course with a lot of the same content, it may be easier for you to duplicate the entire course, and then delete what you don't want. You do need to delete lessons one by one (you can't delete an entire module) so only do it this way if there is a lot of similar content OR you want to copy over all the branding/colour/theme settings as well.
---
Prefer to watch on video?
View this step-by-step Kajabi Quick Tip on video, if you'd prefer a start-to-finish screenshare tutorial.
---
Want extra Kajabi help?
If you've got Kajabi questions, please let me know what they are. Your question may become a future quick tip or tutorial 👍
Click Here to request a tip


---
Join Unicorn Heroes
Every Thursday I answer questions and help troubleshoot with Kajabi for Unicorn Heroes members.
If you need support with using Kajabi (or someone on your team does) it's a fantastic way to get personal attention and get your questions answered!
You can join Unicorn Heroes right now and get your first month for just $10!



Cheers, Sue x
Your Trusted Kajabi Expert 🦄
Discover the secrets to using Kajabi like a pro! 🤫
Get a Kajabi Quick Tip in your inbox twice a week
We promise to keep your email and personal info safe. Unsubscribe at any time 🤍