Kajabi Quick Tip | Optimising your Kajabi checkout for a better, higher converting mobile experience
Welcome to Kajabi Quick Tips, your regular dose of Kajabi inspo!
Twice a week I share an actionable tip that's quick and easy to implement.
Use the step-by-step guide below or watch the video if you prefer to see what's happening on screen.
You'll learn more about Kajabi one quick tip at a time, so you can master the platform that runs your online business!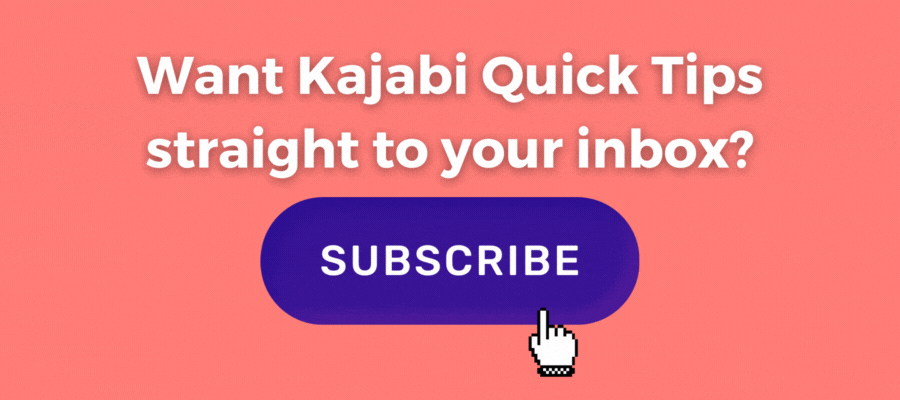 ---
Just a heads up
Blog Posts from at The Unicorn Advisory may contain affiliate links, but I'm a no bullshit affiliate kinda gal, as you can read about in

my affiliate disclaimer

.
I only share products and services we use and love and would recommend, if there was affiliate program or not.
The few $$ we make from affiliate income, costs you absolutely nothing and goes straight to our family holiday fund ✈️ so my kids and I thank you💗
---
The first thing a customer sees at checkout is the price?!?!
Did you know...
If you don't tweak the settings on your Kajabi checkout, to ensure it looks good on mobile, the very first thing your customer might see is the price! Without any context about what they are even buying 😮
The Kajabi default settings don't look great on mobile and given a large % of your audience is likely seeing your sales page and/or checkout on mobile, it's important to make it look good! And trustworthy!
So it converts well for you...
I'm going to show you two quick tweaks that can make a world of difference to the mobile view! 😍
Today's KQT
Optimising your Kajabi checkout for mobile devices.
Tweak# 1: Adding information to the Custom Price Text area - this is what changes your price from $97.00 to (whatever you want to put in the box)
To get to this, when you are in your offer, go to pricing, then edit it. Scroll down until you see the section where you enter your price.
Add some helpful and informative text here (for example see below), so when someone lands on your checkout using a mobile device, they will have context around what it is they are actually buying!
Side note: I always like to add the currency - ie USD, so it is SUPER clear to the customer and the customer won't get a nasty shock when they get their credit card bill.
(Please note - once you have added your text - this will be called Price Text Over-ride)
Tweak #2: Update the checkout settings so the mobile view is on the bottom.
By default, Kajabi puts your checkout area (the credit card entering part of the checkout) first on mobile, so if you'd like to switch that around, make the following change.
When you are editing your checkout go to additional settings and make sure mobile layout is set to put the checkout form on bottom.
That way all your checkout text + video or image + testimonials will show first THEN the actual checkout box will show.
Any opportunities you have to increase trust factor at the time of purchase will help with sales.
Making these little tweaks can help take your mobile checkout from meh to yeah!
FYI - I use the custom price text area on EVERY checkout as it's a chance to inspire right at the moment someone enters their credit card details, rather than just thinking about how much it will cost.
---
Prefer to watch on video?
View this step-by-step Kajabi Quick Tip on video, if you'd prefer a start-to-finish screen share tutorial.
---
Want extra Kajabi help?
If you've got Kajabi questions, let me know what they are. Your question may become a future quick tip 👍
---
Unicorn Heroes
If you'd like personal Kajabi help beyond these quick tips, I'd love to assist you inside Unicorn Heroes, my Kajabi support membership.
Every Thursday I do a live Q+A call and take questions from heroes, and I stay on the call until every question is answered!
Not to mention an ever-growing library of tutorials you can access on demand.
Get your first month for just $10!
---
One Last Thing...
I'd love to know, what do you think of Kajabi communities?
I've been testing it out over the last couple of weeks and love lots of things, but also have a wishlist of updates I'm hoping they will make.
It's a huge improvement over the very simple V1 community, but I'm interested to see how it will go over these first few months before I make the final Heartbeat vs Kajabi decision. I can't wait to say goodbye to Facebook for good!
Let me know your thoughts 😊

Cheers, Sue x
Your Trusted Kajabi Expert 🦄
Discover the secrets to using Kajabi like a pro! 🤫
Get a Kajabi Quick Tip in your inbox twice a week
We promise to keep your email and personal info safe. Unsubscribe at any time 🤍