Kajabi Quick Tip | How to use Kajabi pop-ups to let your pages do the selling for you!
Welcome to Kajabi Quick Tips, your regular dose of Kajabi inspo.
Twice a week I share an actionable tip that's quick and easy to implement.
Use the step-by-step guide below or watch the video if you prefer to see what's happening on screen.
You'll learn more about Kajabi one quick tip at a time, so you can master the platform that runs your online business!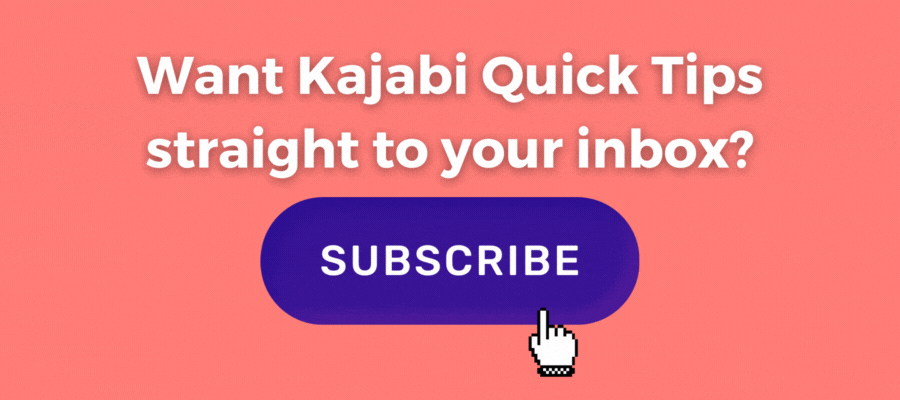 ---
Just a heads up
Blog Posts from at The Unicorn Advisory may contain affiliate links, but I'm a no bullshit affiliate kinda gal, as you can read about in

my affiliate disclaimer

.
I only share products and services we use and love and would recommend, if there was affiliate program or not.
The few $$ we make from affiliate income, costs you absolutely nothing and goes straight to our family holiday fund ✈️ so my kids and I thank you💗
---
Let your pages do the selling for you!

Pop-ups are one of the easiest and best ways you can make your website work on your behalf, selling your free and paid offers for you 24/7.
It's an advertisement for your own stuff on your own site!
Kajabi has two different types of pop-ups - the exit popup and two-step optin, today we're looking at the exit popup.
It's the perfect way to bring attention to your offers so you get more eyes in the places you want them - on your sign-up or sales pages!
These delightful pop-ups will do the selling for you every time someone visits your site.
Today's KQT
How to add an exit pop-up to your pages.
Firstly, a quick 101 on Kajabi's popups.
There are two types of popups on Kajabi pages, an exit popup and two-step option.
The Exit popup is the pop-up that shows up automatically (according to how you do the settings).
The two-step opt-in needs to be triggered to show up. For example, if someone clicks the sign up now button and the action on that button was set to "two-step" it would then pop up.
Both types of pop up are set up and styled in the exact same way - it's just the trigger to make them show which is different (automatic - or click action).
To set up either popup, you'll find them at the bottom of your section list - under the footer.
Clicking on Exit Popup will then open the settings for the pop-up.
The first thing you'll see is Edit Exit Popup and Enable Exit Popup.
You'll need to tick Edit Popup to edit the content (and remember to UNCHECK the Edit Exit popup when you're finished editing, to stop it from showing up on your page and covering up all the content.)
You can leave Enable Exit Popup off (unchecked) until you are ready to have it show up automatically on the page.
Next, it's time to customise the settings.
By default, Kajabi will add an image and a form to an exit popup, but you can get rid of that and add anything you like.
Click on Add Content to see the options of what blocks you can add to your pop-ups.
Images are clickable, so if you have a great graphic with text on it, you don't need to add text - perhaps just a Call To Action button if it's not obvious to click the image.
You could even add a video!
You can style the pop up similarly to how you'd style the website area. Use padding, background colours and borders for extra zing.
If you are using a form, connect the form up, just like you would on a Kajabi page. Click into the form area and choose your form from the dropdown list.
Then adjust the text in the form to be what you'd like OR add a text box with a Call to Action Button.
You can add a call to action button if you use a text block (no need to add an extra CTA button) just by clicking Include CTA in the Call to Action section.
Then choose where you'd like someone to go once they click.
It could be anywhere else on your Kajabi site - such as a landing page or a checkout. Or you could send to another URL - like an affiliate link, to join a FB group, follow you on socials, subscribe on YouTube etc.
Whatever it is you'd like to promote!
To make sure your pop-up isn't too obnoxious, do update the settings, as Kajabi will default to 0 frequency and 0 timed reveal.
This essentially means the moment someone lands on your site, they will see your pop-up.
It's a much nicer experience to let someone browse first THEN show the pop-up, so I tend to use between 45 and 120 seconds.
The great thing is - even if you set that to a long time, the pop-up will show when someone goes to close the page, even if the time hasn't passed yet.
The frequency means how long it will be until it shows up again. If someone comes to your website every day for a week - it will show the first time they visit and again on day 5 (and then day 10 etc) if you have the frequency set to 5.

If you want to use this just for new visitors - perhaps to show a free opt-in, you could make that a longer time, like 14 or 21 days.
BUT if you were promoting a limited-time offer, you could take it down to just a few days, to make sure people see it!
PS remember yesterday's quick tip about the Sendric countdown timer on the Kajabi checkout?
Well you can use that in pop-ups as well, by pasting the code into the source area of a text box, which would be perfect when something is closing soon!
Do you regularly use Kajabi pop-ups? Or will you do so more now you know how to set them up?
---
Prefer to watch on video?
View this step-by-step Kajabi Quick Tip on video, if you'd prefer a start-to-finish screen share tutorial.
---
Want extra Kajabi help?
If you've got Kajabi questions, please let me know what they are. Your question may become a future quick tip or tutorial 👍
Click Here to request a tip


---
Let's Get Shit Done together!
Are you going to be joining me next weekend for fun, frivolity and most importantly getting your Kajabi to do list DONE?
The next Kajama Party #GSD Weekend is on February 18/19 and registration is now open.
It's a fun chill co-working weekend, that gives you the benefit of a Kajabi expert on hand in case you get stuck while working through your list, or you have questions.
Register for the #GSD weekend >
---
One Last Thing...
I like to add pop-ups to all my main website pages and have them running pretty much all the time, so the pages that get the most traffic will trigger your pop-up to pop!
If you have lots of pages, keep a spreadsheet or word doc with a list of what pop-up (and hello bar) is on each page, so you have an easy reference, rather than going through each page.
If you're including expiring offers - for example a promotion with a limited time, set yourself a reminder to come and turn it off or change it to something else on that day, so you're not promoting something any longer available.
And extra tip for you - don't delete the text, form or images, just hide them. Then if you want to use the same content again in the future, it will already be there and you can simply show it, hiding the expired content.
This makes for changing over pop-up content quick and easy!

Cheers, Sue x
Your Trusted Kajabi Expert 🦄
Discover the secrets to using Kajabi like a pro! 🤫
Get a Kajabi Quick Tip in your inbox twice a week
We promise to keep your email and personal info safe. Unsubscribe at any time 🤍