Kajabi Quick Tip | Update Your Mobile Settings To Stand Out In The App (Most People Don't Do This!)
Welcome to Kajabi Quick Tips, your regular dose of Kajabi inspo.
Twice a week I share an actionable tip that's quick and easy to implement.
Use the step-by-step guide below or watch the video if you prefer to see what's happening on screen.
You'll learn more about Kajabi one quick tip at a time, so you can master the platform that runs your online business!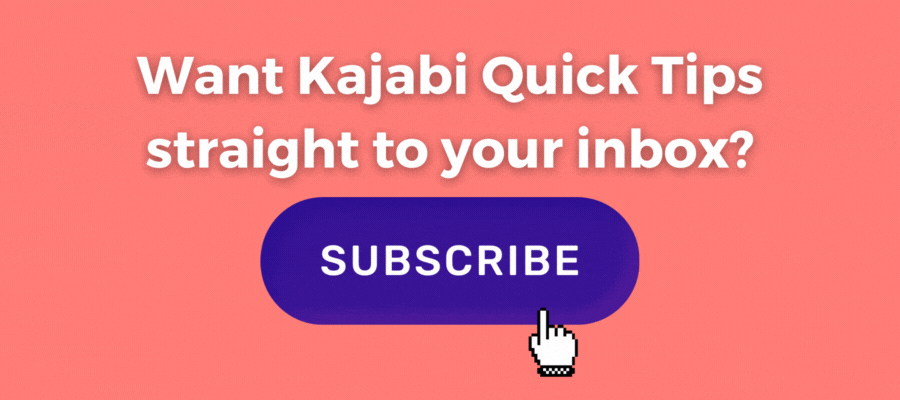 ---
Just a heads up
Blog Posts from at The Unicorn Advisory may contain affiliate links, but I'm a no bullshit affiliate kinda gal, as you can read about in

my affiliate disclaimer

.
I only share products and services we use and love and would recommend, if there was affiliate program or not.
The few $$ we make from affiliate income, costs you absolutely nothing and goes straight to our family holiday fund ✈️ so my kids and I thank you💗
---
Do you use Kajabi's mobile app to consume course material on the go?
I've got it and LOVE it - especially as I've bought HEAPS of courses (and got a lot through bundles), so using the app is the perfect way to see everything all together in one place.
I recently discovered it's also the EASIEST way to add a private podcast to an iPhone as well. Just go into the Kajabi App, find the business you want and you'll see the private podcast product in the library.
Click on the podcast product and it's instantly added to the podcast player - love it! (no more complicated copying and pasting RSS URL's 🤪)
BUT that isn't my tip for today, more of a sweet bonus tip since I'm talking about the Kajabi mobile app...
Have you ever taken 5 mins to update your mobile settings?

Did you know, there is a kinda hidden section in your Kajabi settings for the mobile app, that most people DON'T remember to set up?
Kajabi has an AWESOME mobile app and your students can access their training on the go.
But if you don't add your logo to the mobile settings, the link to your courses will show an ugly grey box as the image instead.
It's so easy to stand out in the app with your logo (most Kajabi creators forget to do this!) plus you can quickly update the colours to something more closely aligned with your brand (unless your brand colours are Kajabi blue and black!)
By the way, I'm not kidding when I say most Kajabi creators forget - I've been SUPER surprised to notice some of the big course creators even miss this step!
These tweaks will take just a few minutes and only ever need to be done once, I'll show you exactly how.
Today's KQT
Adding Your Logo To the Kajabi Mobile App
Go to your Kajabi settings (the lower left hand side of your Kajabi dashboard) then find mobile settings and click into it. (it's right near the bottom of your site settings - you may need to scroll).
Firstly, add your logo.
This will need to be a square logo or brandmark (similar to your site favicon).
Ideally use 512 x 512 pixels, but it may still work if your logo is a different size, as long as it is square.
Next, choose your colours.
There isn't an option to add your hex codes or anything, what you see here are your only options, so pick whichever is the closest to your brand.
If you don't pick a colour, Kajabi will display your course with the default Kajabi blue and black.
Kajabi App Promotion isn't necessary, but it is handy to get the link to the promo page (in the swipe copy) as you can then include it in your welcome emails or info section of your course.
Students love the ease of the app - and the URL has direct links to the appstores, so don't forget to tell your students about the app - especially if your niche is less familiar with Kajabi and online courses.
You may not want to put the Customer Library Banner ON if you are particular about branding, as there is no way to change the colour of the banner (see below ⬇️) and you can't change the wording either. It's an ON or OFF situation.
Remember, if you have multiple Kajabi sites in the same account, you'll need to update the settings of each account.
---
Prefer to watch on video?
View this step-by-step Kajabi Quick Tip on video, if you'd prefer a start-to-finish screen share tutorial.
---
Want extra Kajabi help?
If you've got Kajabi questions, please let me know what they are. Your question may become a future quick tip or tutorial 👍
Click Here to request a tip


---
Enjoying Kajabi Quick Tips?
Perhaps you'd like to leave a quick review if you're finding the tips helpful.
It sure would be appreciated 💜
---
One Last Thing...
As a bit of a software nerd I adore AppSumo and can't resist trying out cool new things! For the last few weeks have been enjoying using TabExtend.
It took me a few weeks to get used to it, but now I have everything organised and bookmarked I'm LOVING it!
Best thing is - you can share a link list with a team member (if you use the team plan).
I tried a few different bookmark apps, but this is the one I actually use.
So all those affiliate links (and the links to the affiliate program login!) plus links to places you go 20 times a day in Kajabi - your main pages, landing pages in general, offers, even the URL's to common pages are all nicely organised and easy to access.
I'll make a video soon, but just wanted to shout out TabExtend as I can finally say goodbye to having 428 tabs open at once 😆😄

Cheers, Sue x
Your Trusted Kajabi Expert 🦄
Discover the secrets to using Kajabi like a pro! 🤫
Get a Kajabi Quick Tip in your inbox twice a week
We promise to keep your email and personal info safe. Unsubscribe at any time 🤍