Kajabi Quick Tip | How to make your course or membership content searchable for your members
Welcome to Kajabi Quick Tips, your daily dose of Kajabi inspo!
Twice a week I share an actionable tip that's quick and easy to implement.
Use the step-by-step guide below or watch the video if you prefer to see what's happening on screen.
You'll learn more about Kajabi one quick tip at a time, so you can master the platform that runs your online business!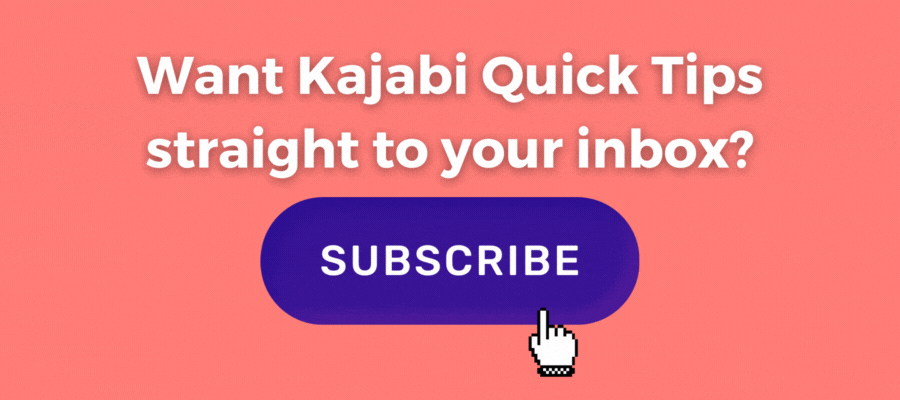 ---
Just a heads up
Blog Posts from at The Unicorn Advisory may contain affiliate links, but I'm a no bullshit affiliate kinda gal, as you can read about in

my affiliate disclaimer

.
I only share products and services we use and love and would recommend, if there was affiliate program or not.
The few $$ we make from affiliate income, costs you absolutely nothing and goes straight to our family holiday fund ✈️ so my kids and I thank you💗
---
Want to make content in your course searchable?

The search feature in Kajabi's products (courses, memberships etc) is amazing.
But there are some limitations.
It will only search the lesson names and the lesson content.
So if you have a transcript available as a download, it isn't searchable using the search function.
Easy fix - copy/paste the transcript into the lesson text area of your lessons.
I've got an extra cool tip if you're doing lots of live calls, involving Fathom a FREE app that transcribes your zoom calls and allows you to summarise them, making it easy for your students to search by their name or what was discussed.

Today's KQT
Creating searchable transcript content for your lessons.
If you have a transcript of your call already, from otter.ai, descript or another software tool that allows quick + easy transcripts, simply cut and paste the transcript text into your lesson area.
The image below shows the call summary - the actual transcript starts underneath this. (It won't all fit on one screenshot, haha)
All the yellow highlighted "Watch" links will open fathom at the exact time that specific "insight" starts, showing just that part of the video.
An "insight" is a bookmark in the recording which you can add to highlight a particular section of the video. You can add the insights while you are recording, or afterwards, I usually add them after.
Note: you can ALSO add your transcript as a download file if you want to.
If you use fathom.video on your zoom calls (which I recommend you do as it's AMAZING and FREE!) you will get a nicely formatted searchable transcript you can simply copy/paste right into the lesson text area in a few seconds.
Each speaker's name is embedded into the transcript, as well as clickable timestamps, which will open up the recording in fathom, when they start speaking! This is really helpful for calls where you answer a lot of questions for different people, as they can search by their name.
The transcript also contains your "insights" (and adds a link directly to that insight).
The content of that transcript will then be searchable inside your course or membership area, if you have search turned on for your product.
You can also create a quick link summary of the call to make it easy for your students and members to go directly to the part of the call they are most interested in (and it tells them how long that part of the video is!!)
Search in Kajabi, will show which lesson someone needs to go to - but it may not take them to the exact part of the video they need. That is where fathom really shines, as the entire transcript for that call is also searchable within fathom as well.
I know this isn't technically a Kajabi tip, but fathom is an amazing tool I always recommend because it's free and incredibly powerful.
However, it is a third-party tool, so I still make sure to download a copy of the zoom video onto our drive and load it into Kajabi as the video for that lesson AS WELL. I just want to be sure my precious recordings will always be safe and backed up.
I've been using Fathom for almost a year now, but I think you can never be too safe!
This workflow saves a TON of time with preparing transcripts and jump links after live calls, so hopefully this gives you some ideas on how you can save time in your business if you do live training over zoom.
(and as a bonus - make your course content more accessible and more searchable without having to use additional and expensive search software in your course or membership... 😉)
---
Prefer to watch on video?
View this step-by-step Kajabi Quick Tip on video, if you'd prefer a start-to-finish screen share tutorial.
---
Want extra Kajabi help?
If you've got Kajabi questions, please let me know what they are. Your question may become a future quick tip or tutorial 👍
Click Here to request a tip


---
Get an Hour of Power
Kajabi is amazing, but with a platform this powerful, sometimes you might be wondering if you're setting everything up right? Or you could have a to-do list a mile long that's taking forever because you've got to learn each step.
If so, you might need to harness the power of a Kajabi expert to bring some sweet relief!
With an hour of power, I can often help you achieve what might have taken you days! Or look over what you've already got set up and make sure everything is linked up correctly and ready for launch.
Sometimes you just need someone to tell you the best way to set everything up and be a sounding board for your ideas.
That's where my Kajabi strategy hour of power comes in!
My Kajabi brain on your biz for a magical hour of action.
YES PLEASE! I wanna book this now >
---
One Last Thing...
It's now been 3 weeks since this Kajabi Quick Tips series started and I'd love to know your feedback!
Are you enjoying the Kajabi tips so far? How do you find the instructions and the videos? Is there any way this newsletter or the tips could be more helpful for you?
I'd love for this to be THE most awesomely helpful Kajabi resource around, so your feedback - good and bad - would be greatly appreciated.
Just reply and let me know what you think.

Cheers, Sue x
Your Trusted Kajabi Expert 🦄
Discover the secrets to using Kajabi like a pro! 🤫
Get a Kajabi Quick Tip in your inbox twice a week
We promise to keep your email and personal info safe. Unsubscribe at any time 🤍