Kajabi Quick Tip | How to Rearrange Your Product Library Display Order
Welcome to Kajabi Quick Tips, your regular dose of Kajabi inspo.
Twice a week I share an actionable tip that's quick and easy to implement.
Use the step-by-step guide below or watch the video if you prefer to see what's happening on screen.
You'll learn more about Kajabi one quick tip at a time, so you can master the platform that runs your online business!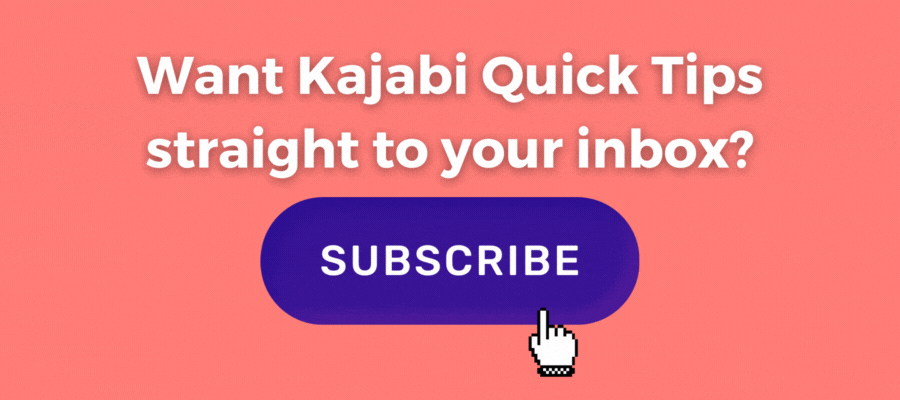 ---
Just a heads up
Blog Posts from at The Unicorn Advisory may contain affiliate links, but I'm a no bullshit affiliate kinda gal, as you can read about in

my affiliate disclaimer

.
I only share products and services we use and love and would recommend, if there was affiliate program or not.
The few $$ we make from affiliate income, costs you absolutely nothing and goes straight to our family holiday fund ✈️ so my kids and I thank you💗
---
Your library page AKA the home for your courses/products

You can customise the design/layout of your library page in the website area, but how often have you looked at the order your products show up on that page, from your customer's perspective?
Maybe you've never thought about it or checked?
It's a quick and easy fix to change around the order. Perhaps grouping similar products together and making the order of your products flow.
(and it's another thing you could add to a regular Kajabi check-up as new products are automatically put down the bottom of the list and if you don't go in there, you'll never notice!)

Today's KQT
Sorting the product display on your library page.
First up, head to your products section. You'll see all your products listed here.
By default, it will sort by recently updated.
One of the options you can change this to is sort "by library" so you'll then see the order your products will display in your product area if you prefer.
To change the order, go into library sorting.
You can then see all your products and the order in which they are displayed.
You can drag each one around to position it where you'd like.
If you've got a lot of products, this can be a little painful, as you need to drag them up the list bit by bit.
Once you're happy with the order, you can leave (it saves automatically.)
I always like to see things as a student will see it, to know EXACTLY what it will look like.
So grant yourself access to all your products, so you can open an incognito window (or a window in a different browser) and actually login to your own site - as a student.
That way you can see your library page, check how it is laid out and make sure the order you've set looks good and makes sense.
And that's it!
A quick and easy display tip to help make sure things are just where you want them (and similar products are grouped together).
---
Prefer to watch on video?
View this step-by-step Kajabi Quick Tip on video, if you'd prefer a start-to-finish screen share tutorial.
---
Want extra Kajabi help?
If you've got Kajabi questions, please let me know what they are. Your question may become a future quick tip or tutorial 👍
Click Here to request a tip


---
Enjoying Kajabi Quick Tips?
Perhaps you'd like to leave a quick review if you're finding the tips helpful.
It sure would be appreciated 💜
---
One Last Thing...
This is another one of those things to set yourself a reminder to check every now and then - even if you're a Kajabi pro!
Whilst recording this tutorial, I found a heap of new products that were right down the bottom of my library list, as it had been a few (or six) months since I'd looked at it 😆
Have a great weekend!

Cheers, Sue x
Your Trusted Kajabi Expert 🦄
Discover the secrets to using Kajabi like a pro! 🤫
Get a Kajabi Quick Tip in your inbox twice a week
We promise to keep your email and personal info safe. Unsubscribe at any time 🤍