Kajabi Quick Tip | How to Automatically Add A Coupon Discount To The Kajabi Checkout
Welcome to Kajabi Quick Tips, your regular dose of Kajabi inspo.
Twice a week I share an actionable tip that's quick and easy to implement.
Use the step-by-step guide below or watch the video if you prefer to see what's happening on screen.
You'll learn more about Kajabi one quick tip at a time, so you can master the platform that runs your online business!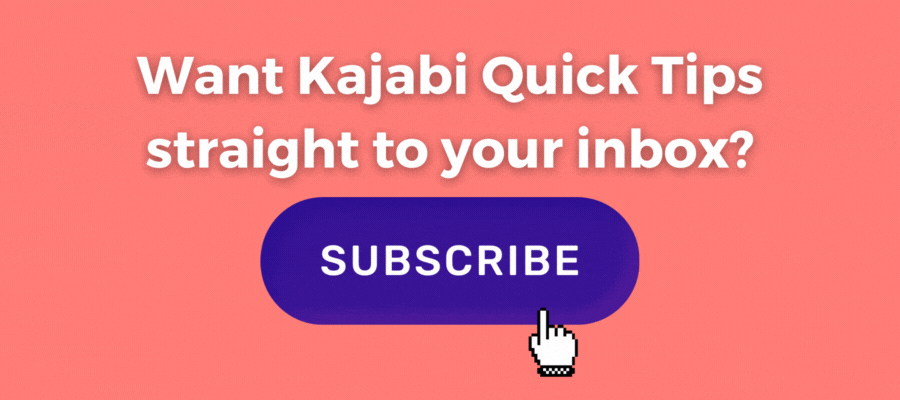 ---
Just a heads up
Blog Posts from at The Unicorn Advisory may contain affiliate links, but I'm a no bullshit affiliate kinda gal, as you can read about in

my affiliate disclaimer

.
I only share products and services we use and love and would recommend, if there was affiliate program or not.
The few $$ we make from affiliate income, costs you absolutely nothing and goes straight to our family holiday fund ✈️ so my kids and I thank you💗
---
Coupon Code Issues
Creating a coupon is a quick and easy way to encourage sales or perhaps include your products in a list-building bundle or giveaway.
However, using coupons can sometimes result in issues if a customer mistypes it, doesn't notice it, and checks out at full price or any number of other hassles.
Thankfully there is a quick and easy way to make automatically apply your coupon to the checkout, so your customer doesn't have to do anything!

Today's KQT
Automatically Apply Your Coupon Via URL Link
Go to the coupon you've created (sales > coupons > your code)
Look in the included offers area and click on the discount link (it will automatically add the link to your clipboard)
Usually, if you share the URL or link for the checkout (that you get in the offer), it will show up like this ⬇️ and your customer will have to manually type in the code to the coupon code area 😒
However getting the discount link from the coupon area, will automatically add the coupon code to the checkout's URL, so the code is automatically applied!
Use this coupon name included URL anywhere you'd normally link to your checkout, instead of the standard checkout URL.
It also really highlights how much of a good deal someone is getting, when they see that discount already applied.
Share the special URL in an email, use as the link in a "buy now" button on your sales page or in social media posts (or your linkinbio page).
That way, when you share the coupon URL, the discount shows up automagically ⬇️
---
Prefer to watch on video?
View this step-by-step Kajabi Quick Tip on video, if you'd prefer a start-to-finish screen share tutorial.
---
Want extra Kajabi help?
If you've got Kajabi questions, let me know what they are. Your question may become a future quick tip 👍
---
Let's Get Shit Done together!
Every six weeks, I host a Kajama Party #GSD Weekend, a relaxed and fun co-working weekend, that gives you the benefit of a Kajabi expert on hand if you get stuck or have questions.
The next one is THIS weekend (January 14 + 15)
Register now and turn your Kajabi to-do list into a to-DONE list 😍
---
One Last Thing...
I'll soon be adding a weekly digest option to the newsletter, so if you'd prefer to get your tips in one delightfully gluttonous weekly email instead of daily, you'll soon have the choice.

Cheers, Sue x
Your Trusted Kajabi Expert 🦄
Discover the secrets to using Kajabi like a pro! 🤫
Get a Kajabi Quick Tip in your inbox twice a week
We promise to keep your email and personal info safe. Unsubscribe at any time 🤍